Monument to Wojciech Korfanty
Person/persons/event to whom the monument is dedicated
The monument is dedicated to Wojciech Korfanty, an Upper Silesian politician acting since the beginning of the 20th century for the Polishness of Upper Silesia. He played a special role during the Silesian uprisings and plebiscite (1919-1921), which decided that most of the area was granted to Poland. At that time he served as the Polish Plebiscite Commissioner and dictator of the Third Silesian Uprising.
Localization
Silesian Sejm Square, Katowice
Location in relation to the surroundings
The monument stands on the square in front of the Voivodship Office.
Text of the inscription
Wojciech Korfanty 1873-1939. Two plaques on the sides of the pedestal:
The first plaque: 'There is only one request to the Silesian people to remain faithful to their Christian principles and their attachment to Poland' Wojciech Korfanty, Address to the Silesian people
Second plaque: The monument was erected on the initiative of the social committee for the construction of the monument to Wojciech Korfanty Katowice 1999
General description
The monument is placed on a trapezoid-shaped pedestal, which in turn stands on a 3-step pedestal. The figure of Korfanty (cast in bronze) is depicted as if it emerges from a rock (coal?) or a wave. The whole is about 7 m. (including the Korfanty statue about 3.5 m.).
The circumstances of unveiling
The monument was created mainly on the initiative of members of the Upper Silesian Union, including Joachim Otte. A direct impulse was the earlier unveiling in the city of the Piłsudski monument, rather badly associated with the Upper Silesian people. In response, a monument to Korfanty, a local activist of great but underestimated merit for the region and the country, was to be erected. In 1996, the Social Committee for the Construction of the Monument to Wojciech Korfanty was established, with Henryk Dzieworo as president of Katowice at the time. In a competition held in 1997, the winning design by Zygmunt Brachmański was selected. In the same year the foundation act was laid and Korfanty was awarded the Order of the White Eagle. The ceremonies connected with the unveiling of the monument took place on 19 June 1999. Representatives of local authorities and Korfanty's grandchildren took part in them: Maria Rupp and Wojciech Feliks Korfanty.
Later history
n/a was established in 1999
Contemporary importance
The monument serves primarily to remind one of the most deserving figures for the Polish raison d'etat in Upper Silesia. The person who strongly contributed to the fact that the area was within the borders of the Polish state. The role of Korfantego is also emphasized by the place where the monument was erected: the city centre in front of the most important state administration building. Celebrations commemorating the anniversaries of Korfanty's birth and death are held at the monument.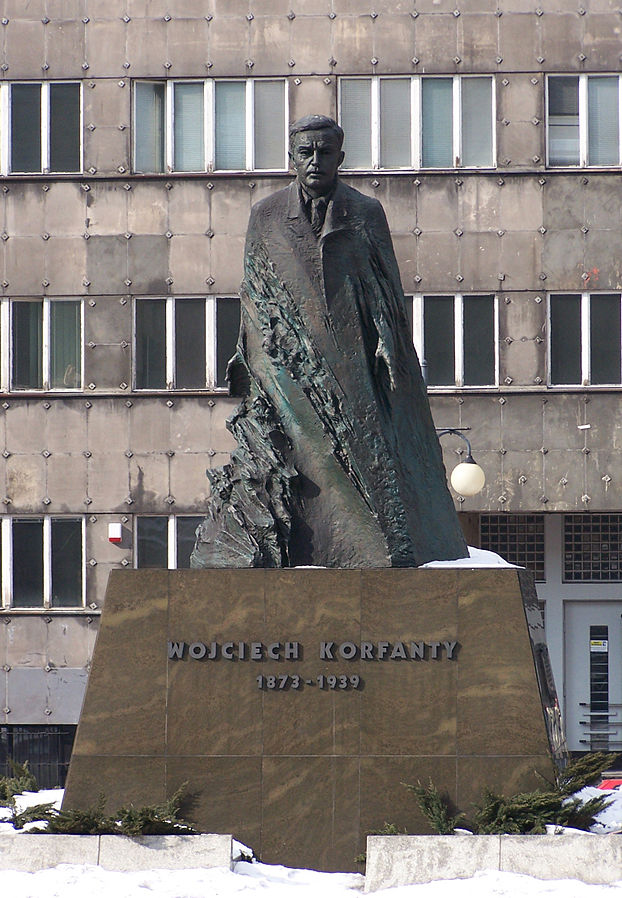 42 Ligonia
Katowice,
śląskie
.
Polska
,
40-853