Location in relation to the surroundings
Next to the local culture venue by the main road in a small town of Šaľa.
Text of the inscription
The communist regime restricted people's freedom of expression of political views, violated basic principles of democratic rule of law, international agreements and its own legislation, persecuted people with power-based means:
- executed, murdered and imprisoned people in jails and forced labor camps
- used brutal methods including torture during investigation and in jails
- murdered people trying to escape across the borders,
-violently arrested the members of the Church or religious groups in concentration camps,
- forcibly evicted people,
- restricted the opportunities to travel abroad,
- exploited the people for military service in Auxiliary technical battalions for indefinite period of time,
- committed crimes to realise targets,
- coupled with a foreign power and since 1968 maintained the state with the help of occupation forces,
- people registered in special lists were persecuted in long-term.
 From the Act No.123/1996
General description
A large arch made of concrete steel - originally an abstract work of socialist realism, is covered by a rusted iron plate with a citation which names the crimes according to the Act on the criminality of communism. The red rust of the iron plate contrasts with the white surface of concrete steel wall behind the carved text. The memorial to the victims of communism bears universal historic witness about the rise, development and decay of totalitarian society. Urbanization, industrialization, imperialism usually end in ethnic or other genocide, says the author Andrej Csillág.
The circumstances of unveiling
The memorial of 17th November in Šaľa is a simple but concise citation from the Act on the crimes of communism. It was unveiled on the 20th anniversary of the Velvet revolution. It was designed by local sculptor Andrej Csillag.
Later history
At the memorial of the 17th November the demonstrations in November 1989 took place. A concrete arch was covered by abstract relief at that time. Several hundred people demonstrated here for the end of communist regime. Every year on November 17th this place witnesses commemoration events of the Velvet revolution. Since February 2018 the meetings of the initiative For Slovakia that swept the country after the brutal murder of investigative journalist Ján Kuciak and his fiancé has been organized by the locals here.
Contemporary importance
The memorial is a reprimand for all the crimes the communist regime committed to its own citizens. Nowadays this place serves as a meeting point of the citizens of a smaller town to commemorate November 1989 and organize meetings with uptodate topics of Slovak politics. It reminds us that the fight for freedom and democracy is a continuous process.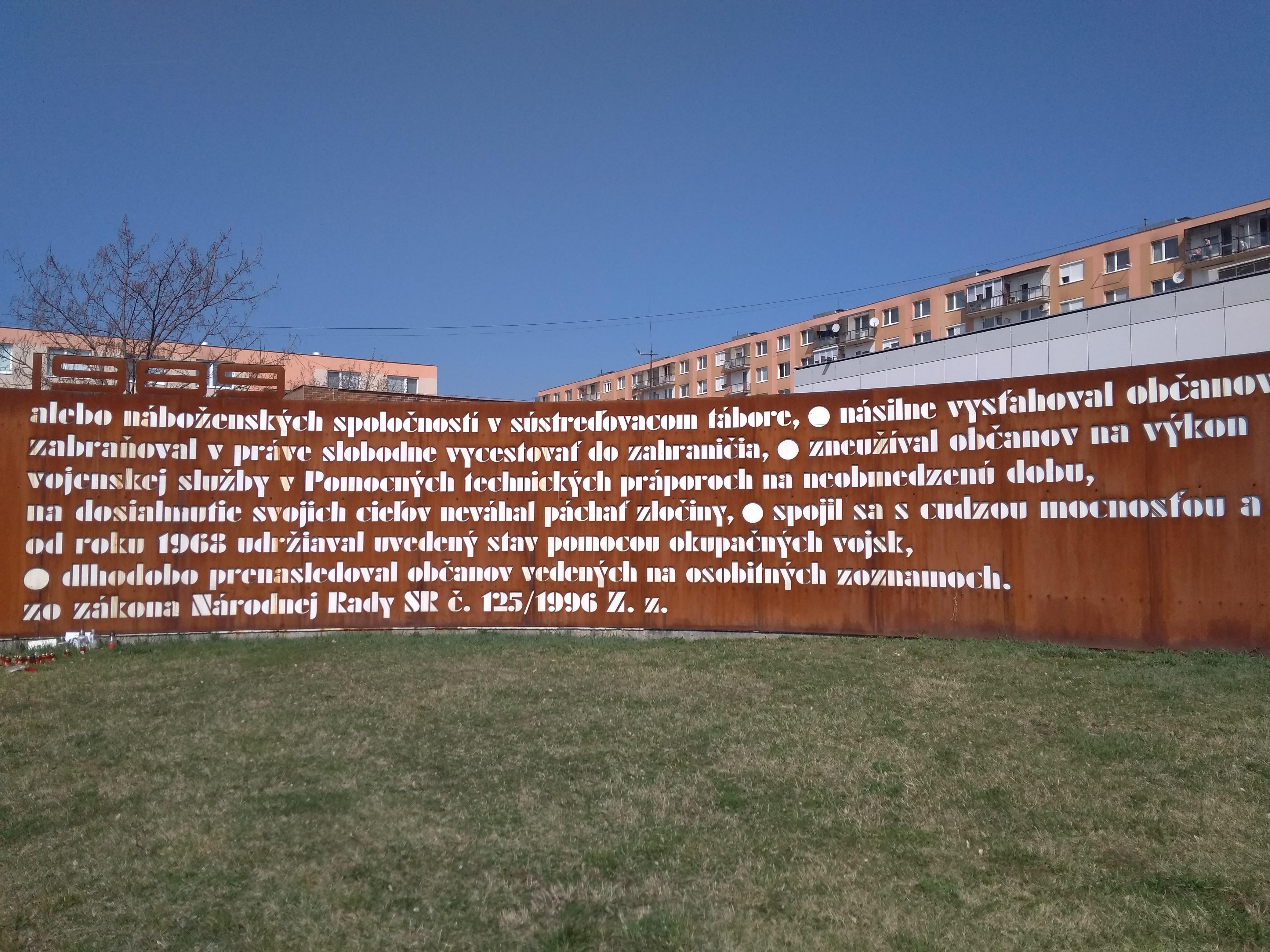 Šaľa,
Nitriansky kraj
.
Słowacja
,
927 01